Transform your moving experience into an entertaining adventure!
Moving Doesn't Have to be Awful


Packing up boxes and lugging them from one home to the next is the absolute worst part of moving. Your friends and family probably don't want to chip in either, especially the kids. They'll dread the frustration of having to track you down over and over to ask which room to set each box in. Well, it doesn't have to be that way!
Designed for the DIY mover, Moving Game Plans is the 7-step plan that gets you from one home to the next, frenzy-free!
It's a mover's best friend—a unique visual system that organizes and simplifies the packing, unloading, and unpacking process, saving you and your move team hours (if not days) of precious time.
Moving Game Plans makes it easy for the people helping you move, too! Unlike using moving stickers for boxes, they simply compare our color-coded chart to your color-coded, taped boxes. Next, they look for that color on the door jamb of the corresponding room—and BOOM! They'll know exactly where to put each box. No more confusion over which room is "Bedroom 1," "Bedroom 2," or "Bedroom 3," and no more boxes being dropped in the garage because "I don't know where this goes."
You can use it with pro movers, too


If you're using a professional moving company to unload at your new home, Moving Game Plans can help there too. Using the exact same system, movers at your new house can use your color-coded chart to know exactly where to drop each box. Just send the chart with the moving truck, and you won't even have to be there when your boxes are unloaded.
As an added bonus, our free downloadable floorplan templates will help movers understand where to place beds and other large furniture when you're not there.
Kids will love it


The best part of Moving Game Plans—the thing that makes it truly unique—is that it's also a game! Your family members can race to complete important jobs, helping to ensure that everyone stays on task. For instance, in the first step, each person will pick the color they want to use to identify their room during the move.
Once that's done, they can add their game piece to the first stepping stone. In the next step, each person will add their room label to the color-coded chart on the line that corresponds with the color they chose.
In Step 3, the race is on! It's time to start packing. Instead of using moving labels, you'll simply apply 2 strips of tape to each box with the color that corresponds to the room each person is in charge of. Whoever finishes Step-7 first wins bragging rights or a prize of the move manager's choosing.
Although, really, everyone wins because you all made it safely to your new home!
Say Hellow to Downsizing Magic!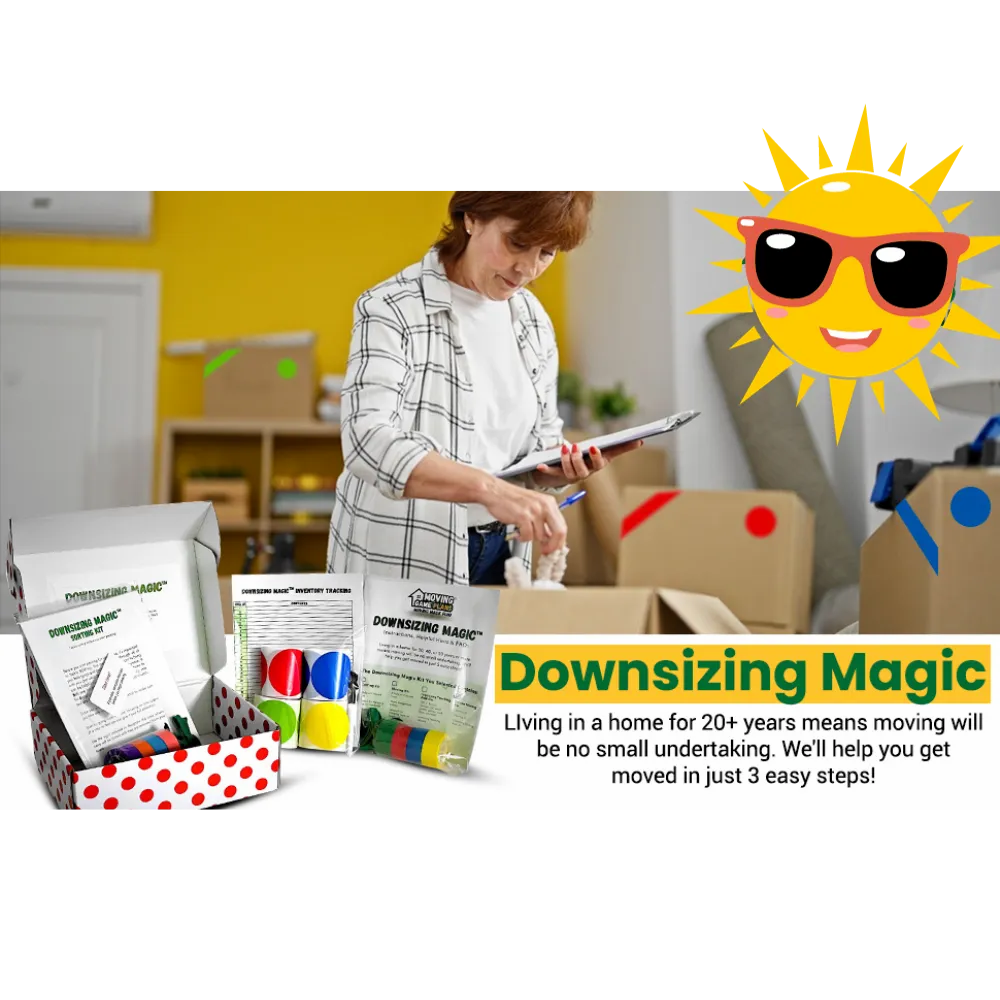 Living in a home for 20+ years means moving will be no small undertaking. We'll help You get moved in just 3 easy steps!
Do you find yourself facing these challenges:
Wanting to move to a smaller home but not knowing where to begin?
Endless hours spent clearing out belongings, leaving you exhausted and behind schedule?
Trying to help a family member declutter and organize, but no idea where to start?
If any of these ring a bell, we've got great news for you: There's a solution that can make your life a whole lot easier. Say goodbye to these headaches and hello to a more streamlined, stress-free process. Intrigued?
Your ELITE moving kit made our move 10 times easier and faster. Simply apply the tape color to the box when packing to match the corresponding room in your new place.

The handy wall chart keeps all the colors and rooms organized. Everyone who moves needs one of these kits!" 

Kelly - Monterey, CA

★★★★★

/

Read More Testimonials 〉