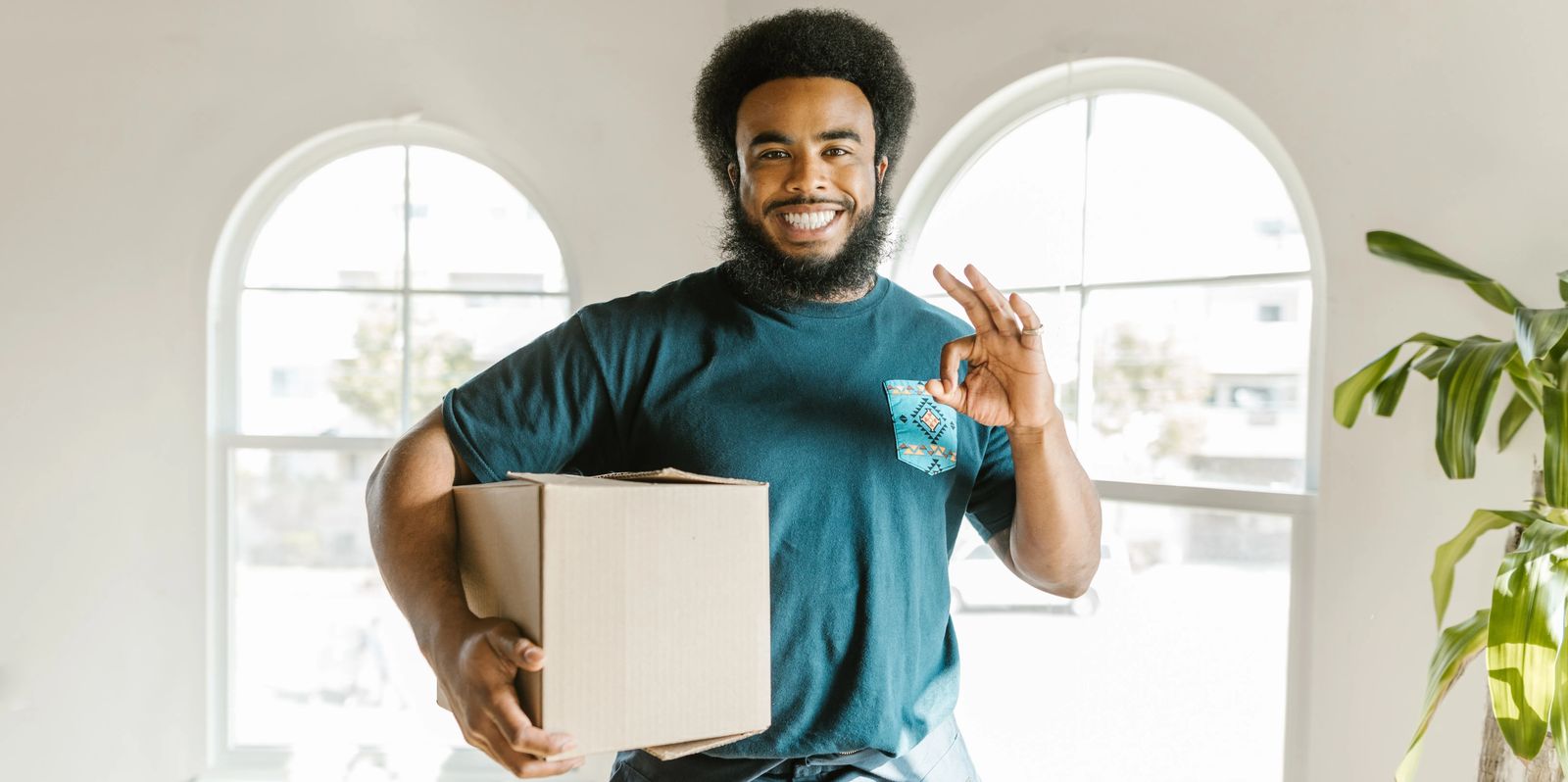 FAQs
How do I know if I will have enough tape?
The tape estimates were designed for people and families with an average number of belongings. It will support a move of 250 – 280 boxes.
Estmates Based on an Average Number Of Belongings

Home Depot Boxes
Number of Boxes
Inches of Tape Per Corner
Times 2 Per Box
Total
Small
120
6
12
=
1440
Medium
70
8
16
=
1120
Large
35
10
20
=
700
XL/Picture
30
10
20
=
600
Wardrobe
8
10
20
=
160
4020
Suggested Tape Application for 1-3 Bedroom Home
Bedrooms: 1-3 rolls
Kitchen: 1 roll
Dining Room: 1 roll
Living Room: 1 roll
Bathroom: 1 roll
Garage: 1-2 rolls
Bathrooms: use supplementary stickers included
Suggested Tape Application for 4-5 Bedroom Home
Bedrooms: 4-5 rolls
Kitchen: 1 roll
Dining Room: 1 roll
Living Room: 1 roll (combine LR/DR if needed)
Garage: 1-2 rolls
Bathrooms: use supplementary stickers included
What if I am a collector?
We suggest that you purchase additional rolls of tape. If you have enough time, you can order from our website. We offer a set of 3, large rolls - 1 each in green, blue, and yellow.
If you need more tape urgently, you can always grab some green and/or blue painter's tape at a local hardware or paint store. Kitchens, rooms with lots of books, and garages typically use the most tape, so assign green or blue to those rooms.
What if I need to have a chart at my new home and at my current home?
If your belongings are being delivered before you arrive at your new home, we suggest mailing the chart, and remaining tape, in the tube or box it came in. Your Realtor® or Move Manager can affix it to the front of your new home.
If you decide to put it in the moving truck, make sure it is easily accessible! If you run into problems, contact us and we will find a way to help you.
What are the Supplementary stickers for?
Use your extra stickers in smaller rooms such as bathrooms, walk-in closets, and pantries.
What if a room/location sticker is not included?
Use the blank labels and write the room/location in with a dark pen. Place on the Chart next to the correct color of tape.
Why are there 11 tape colors on the chart and only 8 rolls of tape included in the kit?
This allows us to work with multiple tape vendors who offer different sets of colors.
What are the open first stickers for?
These can be assigned a tape-color and used in conjunction with another color. For example, a box could have two different colors of tape on it - one for the room it goes to and one that represents that it is an Open First box. * Side note: We use this dual system at Moving Game Plans to help us identify our inventory. We can visually see if each box of 50 tubes contains white tubes or black tubes and where they are in the fulfillment process.
If you have just a few boxes that need to travel with you in your car, these stickers can go directly on them - without any of the colored tape.
As a professional Move Manager, I help my clients with all the phases of moving. This product helps me organize their move in a way that streamlines everything. The Moving Game Plans system is clean, efficient, and fun! I will be recommending it to other move managers as well as friends and family! Theresa, La Selva Beach, CA

★★★★★