It's Not Just a REALTOR® Closing Gift!
Closing gifts are an excellent way to secure future business so taking the time to select the perfect gift is important!
A client's positive memory of you is 90% of what makes a good customer referral. Giving a gift that reduces the chaos of a move—while actually making it fun—is something your clients won't soon forget!
...And keeping yourself at the forefront of a buyer or seller's memory assures that your name will come up whenever the topic of real estate does!
While Moving Game Plans® is a perfect closing gift on its own, here are a few packaging ideas to make your real estate closing gift even more memorable:
Open Houses and Networking Events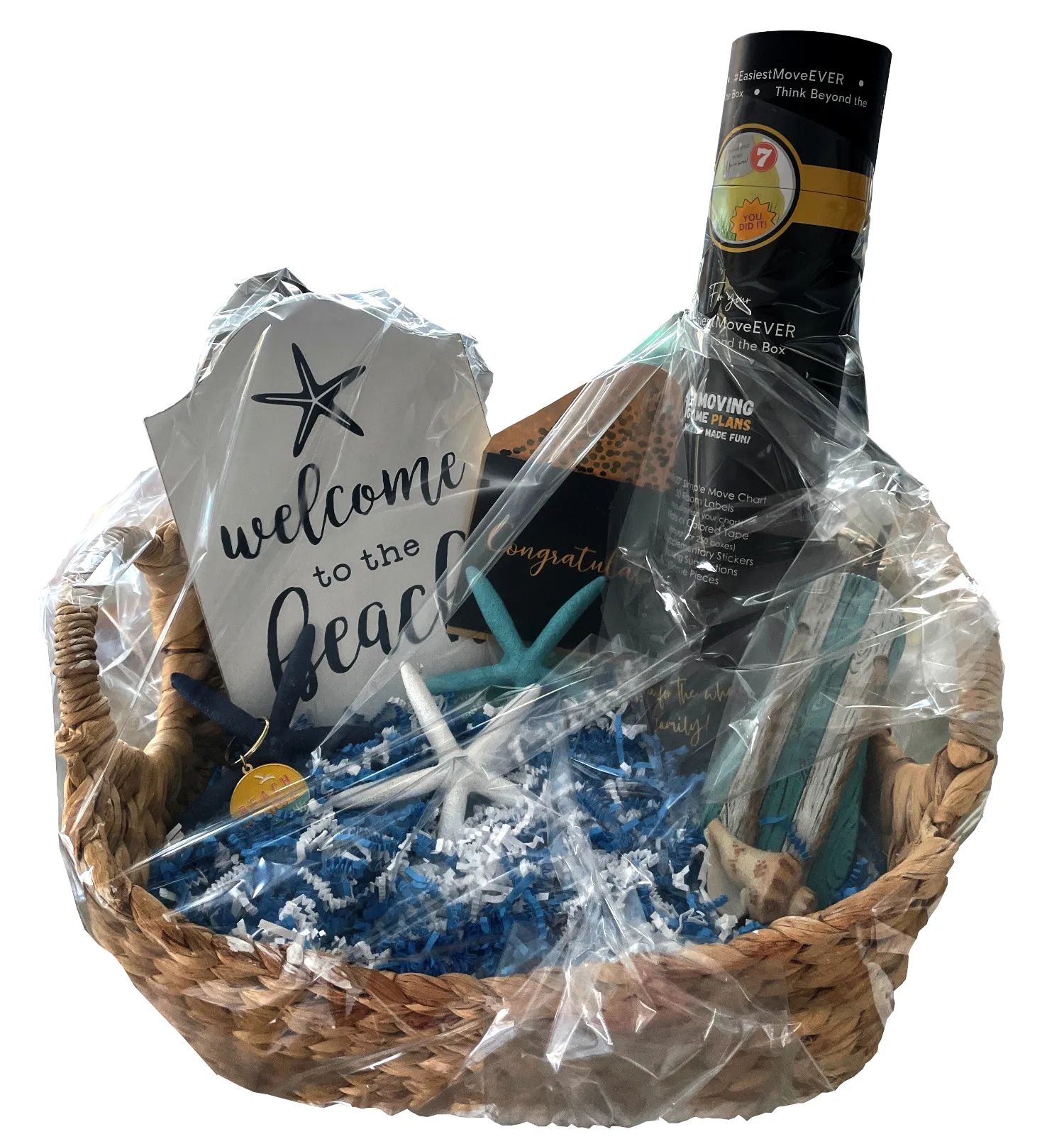 Raffle anyone?
This beautiful package will attract everyone visiting your open house or networking event.
This example includes beachy items and one of our Beach House key rings, all in a fun wicker basket! It's quite the conversation starter, and a raffle is a great way to collect contact information from your guests!
Not only does it show that you go above and beyond when helping your clients by giving them a thoughtful Moving Kit, it's also the perfect opportunity to find out when someone is planning their next move—and what their Game Plan is!
*The basket, towel holder, and other beach items were purchased at Hobby Lobby.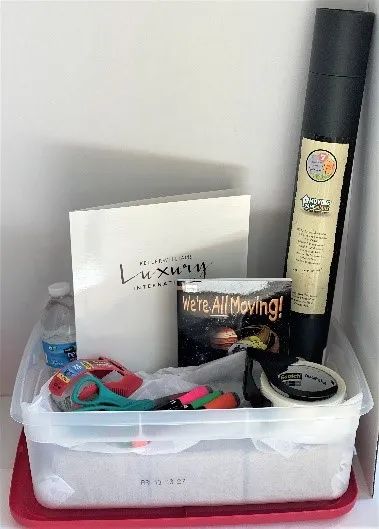 Pre-Listing Packages
Many REALTORS® send a pre-listing package before the actual listing appointment.
This type of package is sent to set the stage for your upcoming conversation and, hopefully, set you apart from other agents interviewing for the job.
Along with marketing materials, testimonials, and local market statistics, get creative and put your pre-listing kit in fancy packaging and/or include something fun like microwave popcorn or bags of your favorite gourmet tea.
*This example includes a marketing folder, a book for the kids, packing tape, scissors, bottled water, and marking pens in a convenient box your clients can keep on hand while packing. It's a great way to store their moving supplies—and affixing your branding would make it even better!
Along the Way to Closing a Sale
Celebrating the Final Contingency Removal!
The final contingency removal is a very exciting milestone in a transaction and definitely a reason to celebrate!
If you give gifts to your clients throughout the sales process, this will be the most meaningful of them all.
Unless they have a full-service moving company scheduled to pack and move them, your clients will appreciate having our Moving Kit to help them organize and simplify their move.
It's the perfect closing gift for busy people, with busy lives!