Open House Bingo - FAQs and Additional Resources
How Do I Get More Sign In Sheets
They are available for sale on our website, under Additional Supplies, on our Products Page. They are also available as a free download below.
How Do I Modify The Raffle Instructions
They are available, below, as a free download in Canva.
Can I Include People That Are Not Interested In The Moving Kit?
Yes! A second prize may be offered. Examples are a Starbucks card or movie tickets. We recommend that you modify the Sign-In sheet (below) and include a second selection box. You may also want to modify the Attendee Instructions (below) as well.
What Do I Do If More Than 12 People Want To Enter The Drawing?
This will happen at busier open houses. We suggest that you hold your drawing as usual, then if more than one person has claimed the winning spot, you can either flip a coin, put each name in a hat and draw one, or give them each their own moving kit.
What If I Lose a Poker Chip?
Enter a fictional person in that spot. Make sure to add a full name, email, and phone number so that attendees will be more likely to follow your example. You may even want to start every drawing this way so your first few attendees at each open house will know what to do.
Open House Bingo Additional Resources
Downloading or Modifying the Sign In Sheet
Our Sign In Sheet may be downloaded and printed at your home or office. We suggest printing on heavy bond, legal paper. Use the link below and select the Share button at the upper right once you are in Canva. *These are also available for purchase on our Products page, under Additional Supplies.
The Sign In Sheet may be modified if you would like to add a second prize. Use the link below to update in Canva.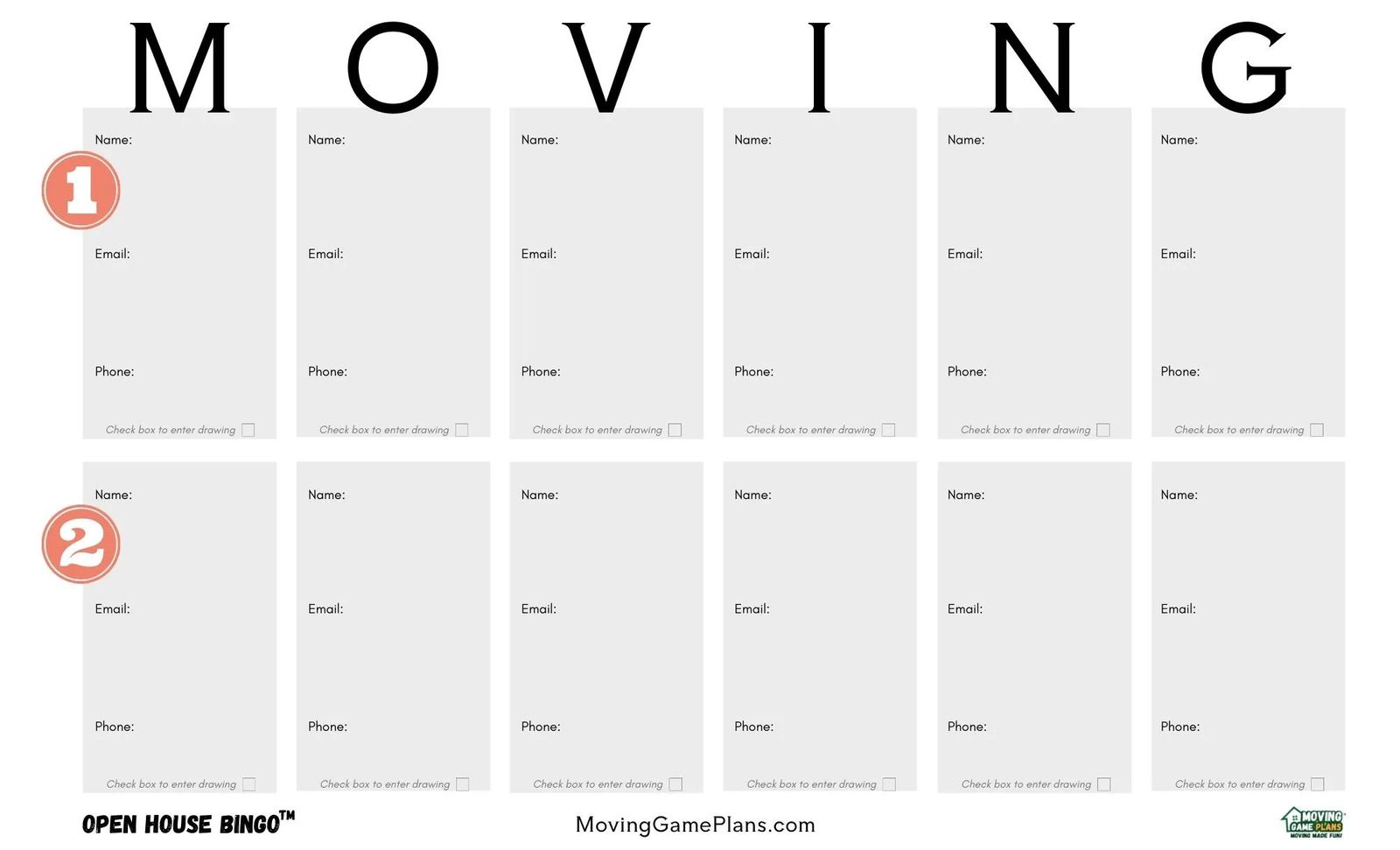 Download or Modify the Sign In Sheet
Modifying the Attendee Instructions
If you are adding a second prize for your drawing, we suggest you modify step 2 of the Instructions to Attendees.
You may also want to give details, in step 3, about your plans to draw the winner(s).
Use the link below to update in Canva.